Teen Zone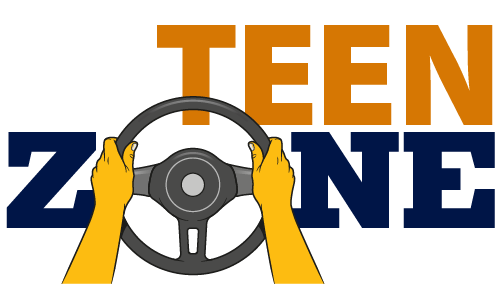 Welcome to the Teen Zone!
As a new or soon-to-be driver, learning the rules of the road is important now more than ever. Below you'll find tips and activities that'll help you learn even more about road safety.
---
Get Smart About Road Safety 
It's not easy driving a large truck or bus, but together there is plenty we can do to help make sure everyone stays safe on the road. Check out how you can be a safe driving expert with the tips and videos below. 
| | | |
| --- | --- | --- |
| Watch Out for Wide Turns | Spot the Blind Spots | Leave Space for Stopping |
| --- | --- | --- |
| Trucks and buses are much longer than cars, so they make wide turns. Don't try to squeeze by, and stay out of their way while in the car. | Truck and bus drivers can't see what's in their blind spots. Pass through to be seen and stay safe. | Trucks are really heavy, especially when fully loaded, so they need extra time to slow down or stop. Don't follow too close or cut them off—give them extra space.  |
| | | |
| Learn Why To Wait | Know the Blind Spots | Slow Your Roll |
---
Drum Roll Please: Here Are the 2023 Road Safety Art Contest Winners    

The 2023 Road Safety Art Contest received many great submissions that showed us the importance of sharing the road safely with large trucks and buses. Check out the winning artwork and share this video to help spread the word.
Check back for next year's contest in March 2024! 
Watch this year's winner video, with a message from a special guest!
---
Check out some sample videos from our partner, Teens in the Driver Seat, and the National Highway Traffic Safety Administration (NHTSA) to inspire you for next year!
---
Ways to Learn More
Driving around large trucks and buses doesn't have to be intimidating. Check out these activities for smart ways to help keep you, your passengers, and others on the road safe. 
Respect the Rig Video Series
Courtesy of Teens in the Driver Seat
| | | |
| --- | --- | --- |
| --- | --- | --- |
| Trucks make wider turns, which can leave a wide space to the left or right of the truck. Avoid an accident and don't pull into this space.  | All big trucks and buses have blind spots that are bigger than standard size vehicles. Know the No Zones and stay safe out there! | Learn the Do's and Don'ts for passing large trucks and buses, safely. |
| | | |
| Watch Now | Watch Now | Watch Now |
"Share the Road" Video
Courtesy of American Trucking Associations (ATA)
---
| | |
| --- | --- |
| The Share the Road Program's goal is to provide everyone with tips for safely sharing the road with large commercial vehicles. Watch ATA's video to learn more about road safety! | |
 Thank you to the Our Roads, Our Safety partners who provided activities and opportunities for teens! Learn about the Our Roads, Our Safety partnership.
Last updated: Monday, November 20, 2023