Know Your Rights and Responsibilities
Before moving your household goods interstate, movers are required to give you the Your Rights and Responsibilities When You Move booklet and FMCSA's Ready to Move brochure to help you understand the documents that a mover will ask you to sign, and explains your rights if your household goods are lost or damaged.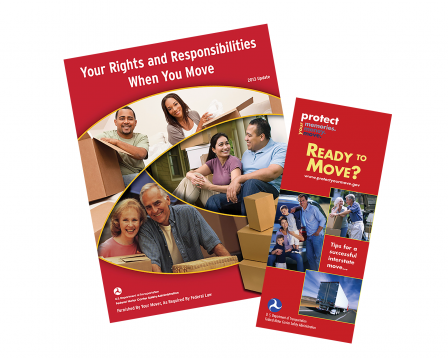 Resources to Safeguard Your Move
Learn how you can set yourself up for success when conducting an interstate move.
Stop Moving Scams in their Tracks
LEARN ABOUT MOVING FRAUD

Thousands of Americans report experiencing moving fraud each year. Our tools and resources can help you avoid becoming a moving fraud victim. 
SPOT THE RED FLAGS

Many dishonest movers use the same tricks to take advantage of movers. Learn how to spot the red flags before its too late.
FREQUENTLY ASKED QUESTIONS

Have questions about an interstate move or moving fraud? Browse these FAQs when you have a household goods move question, as the answer may already be at your fingertips.