What if there are problems?
Refer to your mover's dispute settlement program.
Before moving your household goods, interstate movers are required to provide you with information regarding their dispute settlement program. Movers must offer a neutral dispute settlement program as a means of settling disputes that may arise concerning loss or damage of your household goods.
File a claim for lost or damaged goods.
If your goods are damaged or missing at delivery, request a company claim form from the mover. Complete the claim form to the best of your ability. The mover will tell you where to mail the completed form. You must file a written claim with the mover within 9 months of delivery. Your claim must be in writing but does not have to be submitted on a mover's claim form. It is suggested that you send the claims information to the mover by certified mail.
If you are not satisfied with the settlement offer made by the mover, you have the option of submitting a loss and damage claim with the mover's dispute settlement program or to seek other legal remedies.
Know the applicable transportation charges.
The charges that a mover assesses for its services must be contained in a published tariff, which must be made available to you upon request. If you feel that a mover has overcharged you, you can contact the Surface Transportation Board at 1-866-254-1792 to obtain further assistance.
File a complaint.
FMCSA does not have the authority to resolve claims against a moving company. However, you may file a complaint against a mover by using our online complaint tool or calling 1-888-DOT-SAFT (1-888-368-7238) between the hours of 8:00 am and 8:00 pm Monday through Friday Eastern Time. Your complaint may trigger a Federal enforcement investigation against the mover.
Need to File a Complaint?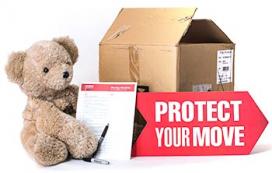 Last updated: Tuesday, April 19, 2016