Our Plan to Share The Road Safely with the U.S. Capitol Christmas Tree
For the fourth consecutive year, the Federal Motor Carrier Safety Administration's (FMCSA) Our Roads, Our Safety program supported the U.S. Capitol Christmas Tree's national journey to the Capitol lawn in Washington, D.C. while raising awareness about sharing the road safely with large trucks and buses.
This year, the tree traveled safely from the Western Agricultural Center in Fletcher, North Carolina to the nation's capital in Washington, D.C. thanks to the two truck drivers, husband-and-wife-team Ed and Deborah,who made a plan for safety on their journey. Hear directly from the drivers about why it's important to give large trucks and buses extra space, and how we can all share the road safely.
Truck drivers take pride in delivering important goods across the nation year-round, and bus drivers dedicate themselves to making sure we arrive at our destinations safely. When you're on the road this holiday season, remember to drive carefully around large trucks and buses, and give them the space they need to continue their vital role in transporting our country's goods and people!
Step 1: Be Aware of Big Blind Spots
Large trucks—like the one carrying the U.S. Capitol Christmas Tree—have huge blind spots on all four sides. If you're on the road and you can't see the truck driver's face in their mirror, they probably can't see you. It's important to stay out of blind spots.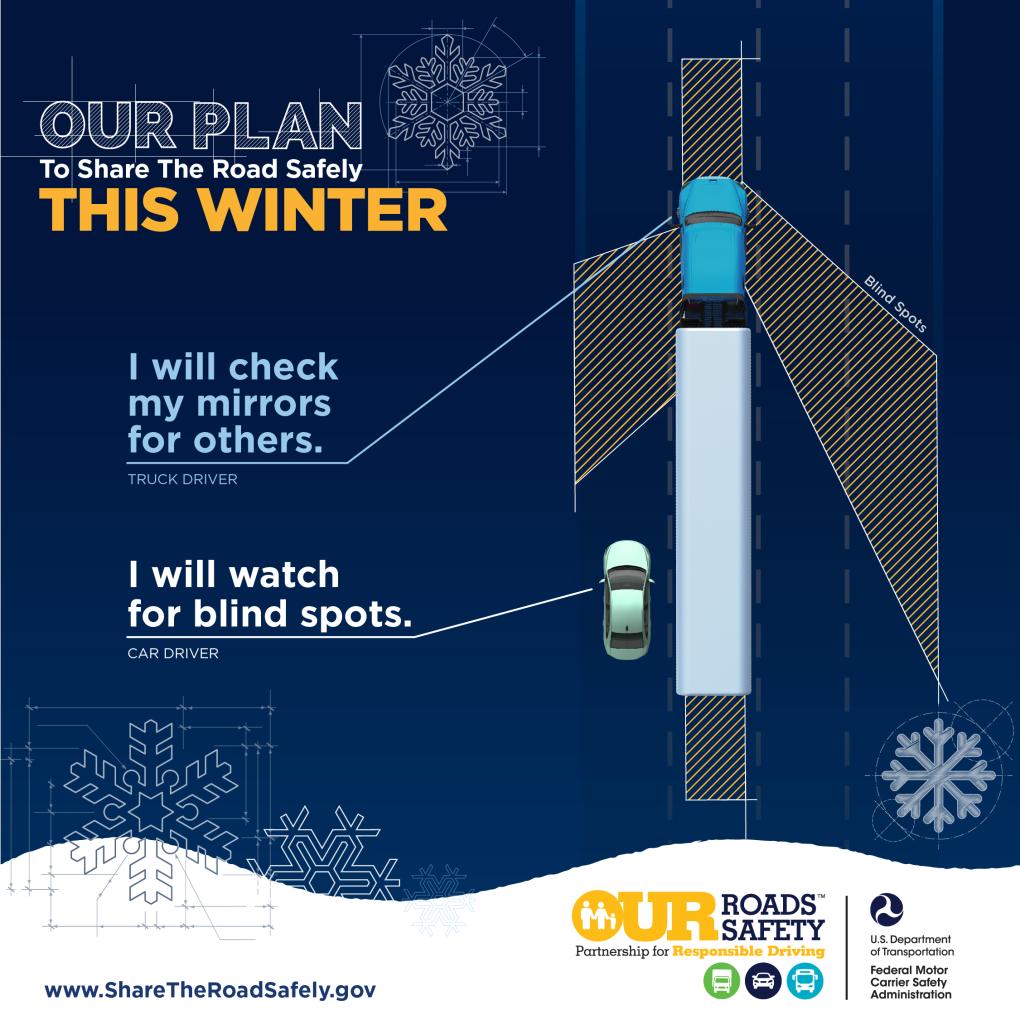 Step 2: Leave Space for Long Stopping Distance
Fully loaded trucks are extremely heavy and need more time and distance to stop than smaller vehicles. It's important to avoid cutting too closely in front of a moving truck, so that they have enough space to slow down and stop.
Step 3: Watch for Wide Turns
Large trucks don't maneuver like passenger vehicles and need extra space to make their wide turns. The best place to be on the road when a truck is turning is either in front of them or behind them.
Step 4: Spread Cheer and Safety this Holiday Season
Learning about road safety is important at all ages. Print out our holiday coloring page and learn how everyone can be safe on our roads this holiday season.
---
Additional Resources
Last updated: Thursday, January 12, 2023