Kid Zone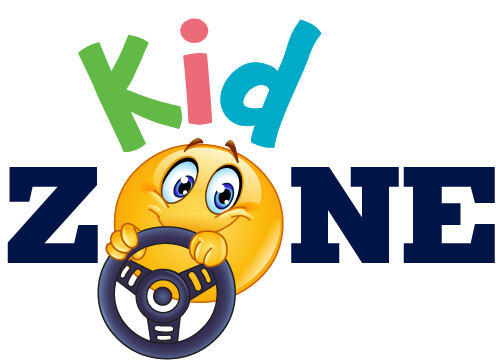 Welcome to the Kid Zone!
It's never too early to start learning about the rules of the road! Below you'll find tips and activities that can help engage children with safety around large trucks and buses at any age.
-------------------------
What to Know About Trucks & Buses
Trucks and buses face different challenges than your car. See what it's like behind their steering wheel—become a safety wizard by reading the tips below.
| | | |
| --- | --- | --- |
| Watch Out for Wide Turns | Spot the Blind Spots | Leave Space for Stopping |
| --- | --- | --- |
| Trucks and buses are much longer than cars, so they make wide turns. Cars should wait and let them finish turning instead of trying to pass by. | Cars should watch out for blind spots, the areas behind, in front and along the sides of large trucks and buses where they can't see other cars. Drivers should pass through them to be seen and stay safe. Stay out of these "no zones"! | Trucks are really heavy, especially when they're fully loaded with important goods, so they need extra time to slow down or stop.  |
| | | |
-------------------------
Calling All Creative Kids
Our annual Road Safety Art Contest is looking for students to help us raise awareness about sharing the road safely. Your works of art will help people learn about sharing the road with large trucks and buses.

Enter the contest by filling out the form and submitting your artwork. Contest ends June 4, 2021. Good luck!

Check out last year's winner video for inspiration! 
-------------------------
Activities at Home or On the Road 
No matter where you are, you can learn about road safety with these helpful and fun activities.
Our Roads, Our Safety Coloring Book

Kids' Activity Pages

Trucking Industry Girl Scout Patch

---

---

---

Print and add your own colorful twist to this coloring book full of past art contest winners' creations.
Challenge yourself with these fun road safety games–now including an activity just for your next road trip!  

Earn your next Girl Scout patch with Women in Trucking by learning more about the trucking industry. 

Courtesy of Women in Trucking

Download Coloring Book

Download Printable Activity Pages
Thank you to the Our Roads, Our Safety partners who provided activities and opportunities for kids! Learn about the Our Roads, Our Safety partnership.
Last updated: Thursday, May 13, 2021