2014 Pocket Guide to Large Truck and Bus Statistics
Overview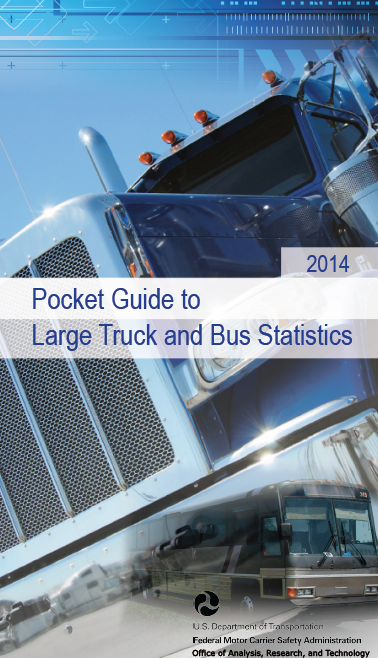 The Federal Motor Carrier Safety Administration's (FMCSA) 2014 Pocket Guide to Large Truck and Bus Statistics highlights our role in collecting and analyzing crash data and statistics to support our mission to prevent commercial motor vehicle-related fatalities and injuries. It can serve as a valuable, compact resource for industry representatives, Federal agencies, and other individuals interested in motor carrier safety regulations and performance data.
The primary mission of FMCSA is to reduce crashes, injuries, and fatalities involving large trucks and buses. In carrying out its safety mandate, FMCSA develops and
enforces data-driven regulations that balance motor carrier safety with efficiency. The successes we have realized in reducing crashes, injuries, and fatalities are great, but there is more to be done. Every life is precious, and even one fatality is one too many.
For more information about this publication, please contact:
E-mail:
Mail:
Federal Motor Carrier Safety Administration
Office of Analysis, Research, and Technology
1200 New Jersey Avenue, SE
Phone: 1-800-832-5660
DOT is committed to ensuring that information is available in appropriate alternative formats to meet the requirements of persons who have a disability. If you require an alternative version of files provided on this page, please contact fmcsa_host@dot.gov.
Last updated: Friday, May 30, 2014