Hours of Service Examples
NOTE:  This guidance revises FMCSA's Logbook Examples, issued in May 2015, and rescinded on June 27, 2020.
FMCSA-HOS-395-HOS-EXAMPLES(2022-04-28)
Hours of Service Examples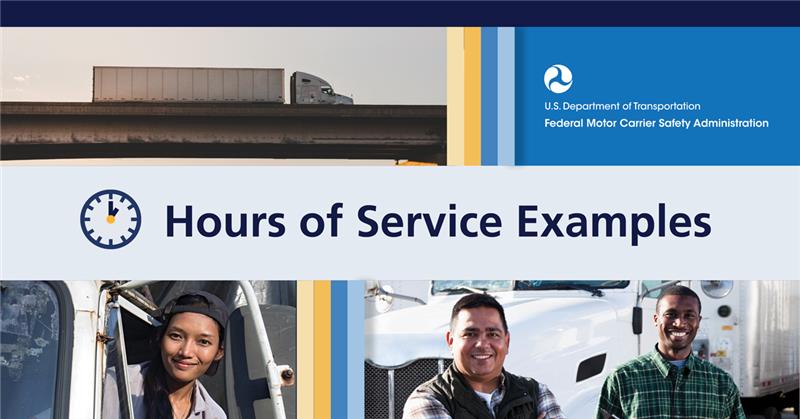 Description/Summary
Review record of duty status (RODS) examples based on 30 different scenarios related to the Federal hours of service (HOS) regulations in Part 395 of Title 49 of the Code of Federal Regulations (CFR). Each example includes:
One or more completed grids from a driver's daily RODS or log (where there are consecutive logs, the labels "Day 1," "Day 2," "Day 3", etc., are used to tell the respective days apart);
A brief description of any violations that may exist; and
An in-depth explanation of the HOS rules as the rules apply to the sample RODS.
The RODS are in the format generated by an electronic logging device (ELD) and transferred to eRODS, the Federal Motor Carrier Safety Administration's software used by safety officials to review driver's logs and determine HOS violations. This guide focuses on RODS for motor carriers required to use ELDs. There may be different requirements for motor carriers that are permitted to use paper RODS or time records.
 
This guidance includes changes to the following four HOS provisions that went into effect on September 29, 2020:
Short-haul exception
Adverse driving conditions exception
30-minute rest break requirements
Sleeper berth provision
Contact Info: FMCSA Information Line, 1-800-832-5660, or hoursofservice@dot.gov.
________________________
Note: This guidance document does not have the force and effect of law and is not meant to bind the public in any way.  It is intended only to provide information and clarity regarding existing requirements under the law or agency policies.
Regulatory Topic: Hours of Service Examples
Effective Date: Thursday, April 28, 2022
Issued Date: Thursday, April 28, 2022