FMCSA Shuts Down Tennessee-based Hazardous Materials Trucking Company
Tuesday, April 10, 2018
The U.S. Department of Transportation's Federal Motor Carrier Safety Administration (FMCSA) has ordered a Crossville, Tennessee-based trucking company, Rock City Stone Company, LLC, does-business-as RC Stone & Farms, USDOT No. 3035947, to immediately cease all transportation in commerce of explosives and/or a placardable quantity of hazardous material (HM) after a federal investigation found the company to pose an imminent hazard to public safety.  RC Stone & Farms was served the federal order on April 9, 2018.
On March 23, 2018, an RC Stone & Farms vehicle traveling along Highway 28 in Sequatchie County, Tennessee, was subjected to an unannounced roadside safety inspection by the Tennessee Highway Patrol.  Finding that the pickup truck was transporting explosives in violation of numerous federal Hazardous Materials (HMRs) Regulations as well as Federal Motor Carrier Safety Regulations (FMCSRs), the vehicle and the driver were immediately placed out-of-service.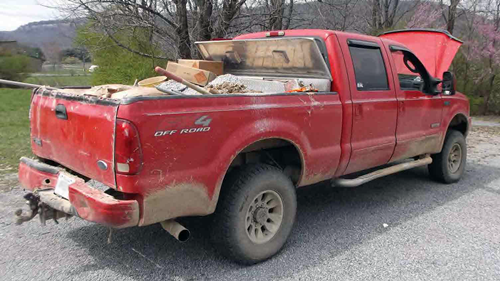 Among the cargo that was haphazardly placed and unsecured found in the truck included: numerous cases of Class 1 explosives, including ammonium nitrate-fuel oil mixture; electric detonators; blasting caps; and detonating cord.  The Class 1 explosives were piled in the truck bed next to metal objects, including pipes, buckets and work tools, and inside a bent metal toolbox.  The denotators and detonating cord located in the cab of the pickup were improperly packaged in a cardboard box and/or not labeled.  It is illegal to transport detonators on the same vehicle as explosive material – unless the detonators are packed in a USDOT specification container or package.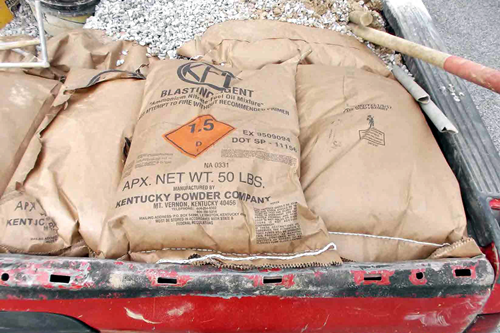 Tennessee Highway Patrol investigators found that RC Stone & Farm had not prepared HM shipping papers, had not placed HM placards on the vehicle, and had not prepared emergency response information to be used in the mitigation of a hazardous materials incident – all violations of federal safety regulations.
The driver of the RC Stone & Farm vehicle did not possess a commercial driver's license, an HM endorsement or a medical certificate.
FMCSA investigators further found RC Stone & Farm in violation of HMRs and FMCSRs "… so widespread as to demonstrate a continuing and flagrant disregard for compliance … and a management philosophy indifferent to motor carrier safety." 
Since January 1, 2018, RC Stone & Farm's records show the company has transported hazardous materials to approximately 44 blasting sites in Tennessee – without proper placarding or preparation of shipping papers.  The company operated without an assessment of transportation security risks and without a transportation security plan, including preparation of an HM route plan in accordance with federal safety regulations.
The company, according to its own admission, used a commercially unlicensed and medically unqualified driver.  FMCSA investigators found RC Stone & Farm had dispatched a driver with HM loads without the federally required specialized training covering safety and security matters, such as attendance of vehicles, parking, smoking, routing and incident reporting.  Federal investigators found that RC Stone & Farm did not have an alcohol and/or controlled substances testing program as required by U.S. statute.
FMCSA's imminent hazard out-of-service order states that the company's "complete and utter lack of compliance with [HM and federal safety regulations] including when transporting explosives … substantially increases the likelihood of serious injury or death for its drivers and the motoring public … if not discontinued immediately."
RC Stone and Farm may be assessed civil penalties of up to $25,705 for each violation of the out-of-service order.  The carrier may also be assessed civil penalties of up to $14,502 for operating a commercial vehicle in interstate commerce without necessary USDOT registration.  If violations are determined to be willful, criminal penalties may be imposed, including a fine of up to $25,000 and imprisonment for a term not to exceed one year.
FMCSA is also considering civil penalties for the safety violations discovered during the investigation and may refer this matter for criminal prosecution.
A copy of the Imminent Hazard Out-of-Service order is available here.